The Lac du Bonnet District Museum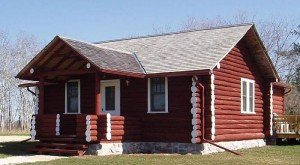 The Lac du Bonnet District Museum collects and preserves area artifacts from prehistoric to early pioneer times. Growing photo displays focus on the regions 27 plus nationalities that through the years melded to form the village and RM of Lac du Bonnet. Opening the door one discovers how hydro dam construction, railway, aviation, timber, brick, pulp, fishing, mining, tourism, hunting, trapping, forestry, and farming contributed to the area development.
 Hans Erickson
The Lac du Bonnet District Museum is located in a restored hand crafted stacked log cabin built in 1935 by Hans Erickson for his daughter Linnea Tyndall. Hans Erickson immigrated to Canada from Norway in 1904 and secured employment blasting rock and cutting wood (winter) at the Pinawa Dam. He was one of the first to secure a homestead grant of 160 acres north of the Pinawa Dam town site. The cabin was donated by Liz and Alvin Tyndall to the Lac du Bonnet and District Historical Society to use as a museum.
Museum Hours for 2017
May
Saturdays & Sundays
Noon – 4:00pm
June
Saturdays & Sundays
Noon – 4:00pm
July
Wednesday through Sunday
10:00am – 4:00pm
August
Wednesday through Sunday
10:00am – 4:00pm
September
1st, 2nd, and 3rd

10:00am – 4:00pm
 Note: Special events

May 20th Museum opening

July 1st Canada Day

September 2nd Heritage Day
---
Located in beautiful Halliday Park on Hwys 502 & 313 near the Winnipeg River Bridge