Outreach / Getting Involved
The Community Outreach / Marketing Committee increases awareness and understanding of the Society, disseminates information, maintains and develops the website, creates an education program for Society members, and embraces exchange programs with other museums.
The main goals of this committee are:
i. Marketing and Fundraising
1. Provide information on the benefits of charitable giving
ii. Collaborate with all committees
iii. Organize annual events such as Heritage Day and Cultural Day
To read more about our Marketing and Fundraising initiatives, please click: Marketing and Fundraising
Lac du Bonnet District Museum "Travelling Exhibits"
In celebration of the 100 year anniversary of the Rural Municipality of Lac du Bonnet's formation of council, the Lac du Bonnet & District Historical Society created three travelling exhibits.
The exhibits were initially shown during the museum's open house in 2017 until the museum seasonal closing and then went on to be featured at the Lac du Bonnet RM Office for the month of September.
The exhibits are:
  Lac du Bonnet Sturgeon (Acipenser Fulvescens)
 Lac du Bonnet Brick Works 1899 – 1920
 When Doctors Made House Calls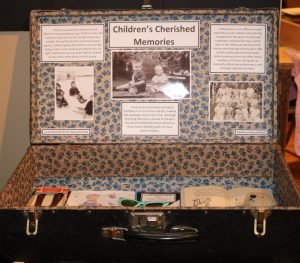 Also available is a suitcase exhibit done by Kaitlyn Mitchell (summer student 2017) called "Children's Cherished Memories." To read a report on Kaitlyn's experience making the case, please click: Travelling Suitcase Exhibit Report
The Lac du Bonnet District Museum is making the exhibits available on loan to the Lac du Bonnet community businesses, schools, or organizations to promote local history.
For more information or interest call 204-345-6329
Kairos Blanket Exercise
On October 12, 2017, the Lac du Bonnet and District Historical Society held a Kairos Blanket Exercise to begin the process of unlearning and awareness. To read the full article, please click: Kairos Blanket Exercise