Operational Committees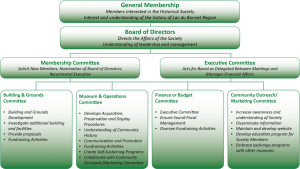 The diagram structure above was the result of our Strategic Planning Process in early 2017 and updated in 2018.  The four basic Committees are listed and their activities are shown.   Our website follows the general direction of our Strategic Plan.
The entire Strategic Plan is available on our website at Strategic Plan for the Society near the top of the page.
The membership committee has the key role of recruiting new members.  Every member has a responsibility to recruit new members.  We would also welcome your membership if you are not already a member.  See our Membership page.
The first three committees in the lower row are self explanatory in their function.
The Community Outreach describes how we reach out into the community with our activities.  Outreach has the goal of reaching all people in the community with information about the past and how it will impact us in the future.
It will also include Marketing activities.  For example every year we have events at Halliday Park and they usually involve vendors who have appropriate goods for sale.
Fundraising is a never ending challenge for the Society.  Although we do receive some funding from the two local Municipal governments, these grants are not sufficient for all of our needs.  For example we are in the early stages of a major and long term development at Halliday Park that will require significant funds to complete.
The Lac du Bonnet and District Historical Inc. is a non-profit corporation and has CRA Registration no.: 890282379 RR0001.  Any gift over $20 will receive an Official Donation Receipt for use when filing your annual tax return.